The Stem Cell Solution Documentary
Please enjoy this 60-minute long documentary film created by award-winning filmmaker, Nick Nanton. It documents my adventures as I pioneered my approach to stem cell therapy. It celebrates a small fraction of my many clinical successes with my patients that I hold dear, including celebrity patients such as Dave Asprey, Mark Hyman MD, Vishen Lakhiani, Jim Kwik, and John Gray PhD.
Watch it now on Amazon, Apple TV, or Google Play.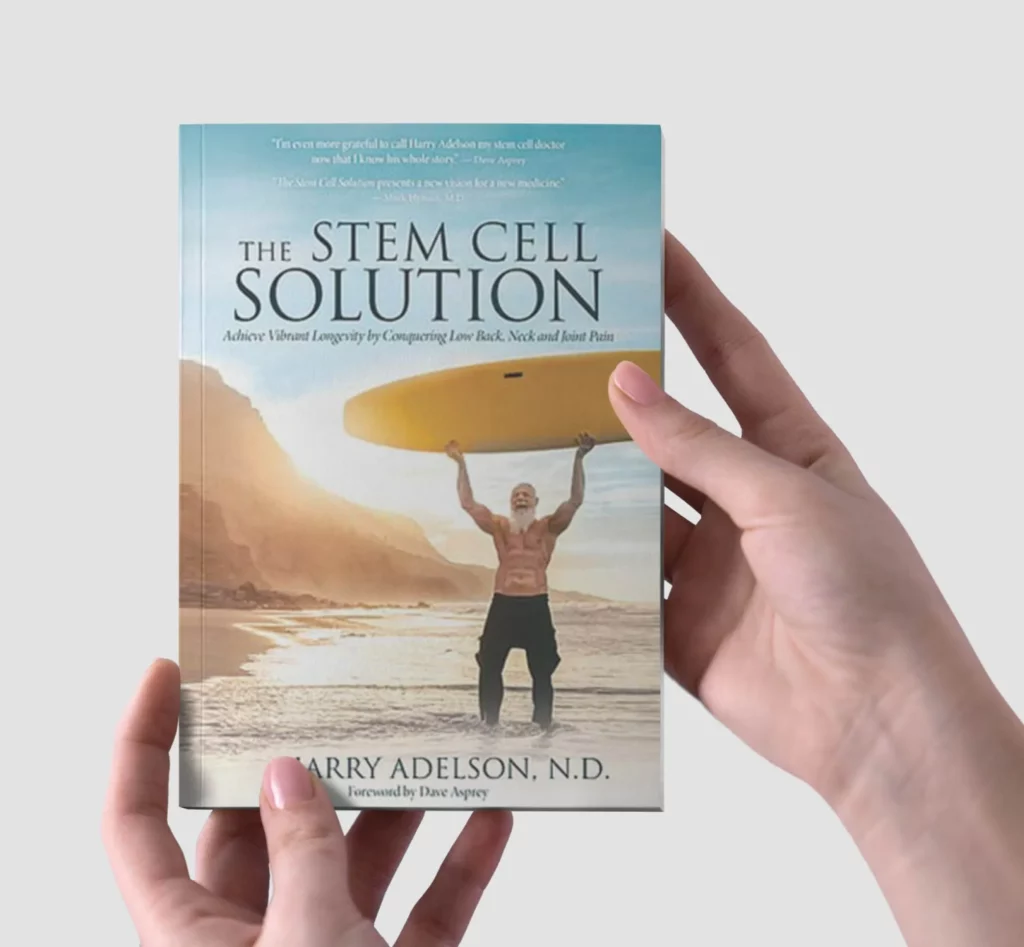 The Stem Cell Solution Book
The Stem Cell Solution chronicles my 20+ years of unorthodox education and experience, leading me to become one of the world's leading stem cell innovators. While The Stem Cell Solution film goes into the personal successes some of my patients and celebrity patients, The Stem Cell Solution book goes into much more detail about my adventures learning stem cell therapy from the masters in South and Central America, explains my approach to optimal health, and tells of some of my own personal trials and tribulations being at the forefront of a brand new medical field. It is free to download and I hope you enjoy it!
Enjoy Dr. Adelson's Book, FREE
My TEDx talk in Cincinnati, Ohio, discusses the use of bone marrow stem cells for the treatment of chronic lower back pain and lumbar disc pain.
With nearly 300 videos, my YouTube channel is dedicated to educating people on the use of stem cell therapy for the treatment of musculoskeletal pain.
Silicone Valley Health Institute, August 2018
A-Fest, Sardinia, Italy, June 2018
Vishen Lakhiani of Mindvalley at Docere Clinics
---
Mark Hyman talks stem cell health with Harry Adelson before his Full Body Stem Cell Makeover®
---
Dave Asprey talks with Harry Adelson about the future of stem cell medicine.
---
Kwik Brain 174: Managing Pain and Your Behavior with Dr. Harry Adelson
---
Bulletproof Radio with Dave Asprey - Slow Down Aging with Stem Cells – Dr. Harry Adelson & Dr. Amy Killen – #578
---
Ben Greenfield - How A "Full Body Stem Cell & Exosome Makeover®" Works.
---
Bulletproof Radio with Dave Asprey - The Real Deal on Stem Cell Therapy for Pain Conditions"
---
Bulletproof Radio with Dave Asprey - "The Healing Powers of Stem Cells"
---
Dan Pompa - Can Stem Cells Fix Your Pain?
---
Ben Greenfield - What Are Exosomes?
---
The Back Doctors' Podcast with Dr. Micheal Johnson
---
My Stem Cell Journey with Luke Story
---
Dr. Trevor Cates (The Spa Doctor) - Stem Cell Medicine For Anti-aging And Pain with Harry Adelson
---
Ben Greenfield (Ben Greenfield Life) - The Most Advanced Anti-Aging & Longevity Hack That Exists: The Full Body Stem Cell Makeover With Dr. Harry Adelson & Dr. Amy Killen.
---
Articles About Dr. Adelson
Is Cell Therapy Right For You?
A consultation by our clinical staff is required before scheduling a procedure to determine if you are a candidate. Click below to see if we are right for you.